French immersion holidays with French in the Dordogne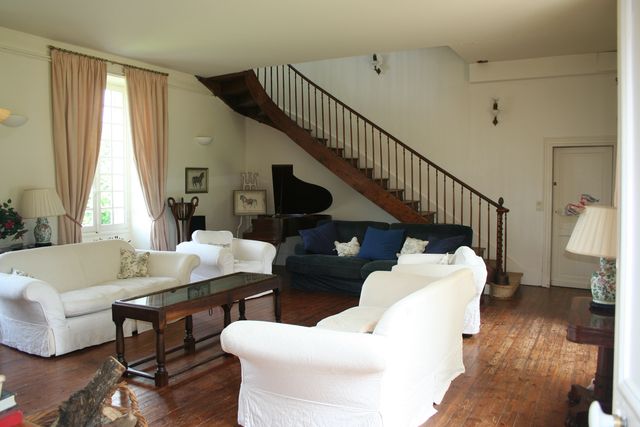 Our holidays are based at le Bourdil Blanc, a beautiful 18th century manor that has just about every facility one can imagine to keep people not only happy but ensure they have a simply wonderful time.
We take great pains to foster a relaxed 'house party' atmosphere - with no fussing staff - and encourage everyone to treat the house as their own and enjoy it at their own pace and in their own way. The house is situated in a lovely tranquil rural area which is conducive to learning
Daily schedule
(Please note – this is subject to change depending on weather, local seasonal cultural events and group input)
08.15 -9. Breakfast
09.00 -12.30 Lessons
12.30 -13.30 Lunch
14.00 Guided tours – in French!
17.30-18.00 Return to Le Bourdil with time for relaxation and personal study
19.30 Apéritifs
20.00 Dinner
21.30 After dinner activities
For those who have come to learn French we offer the following :
Total immersion learning in small groups with formal morning lessons and then endless opportunity to practice throughout the rest of your stay, from breakfast to after dinner chat Some of the teachers are resident at the school so there is ample opportunity for informal discussions
One half day wine tasting at a local well-known vineyard in Bergerac where you will learn about and taste wine with the experts
Afternoon visits to many local tourist sights in the Dordogne, all conducted in French for maximum language practice and practical application of lessons from the classroom so as to experience local culture and explore the region. These tours are optional. More information on "Day by Day programme" page.

A convivial atmosphere which will provide you with the confidence to make progress, a key ingredient for successful language learning
Excellent and authentic regional food and wine
Non-participants
Travel companions who are not learning French are most welcome, though non-participants will best enjoy their holiday if they are relatively self-sufficient to allow those here to improve their French to do just that!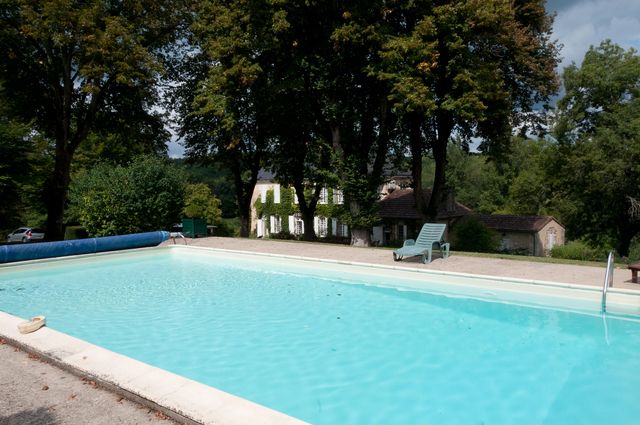 Aside from enjoying the food and wine so integral to French life, all guests are most welcome to help themselves to all the facilities and comforts le Bourdil has to offer which include a lovely heated pool, all weather tennis court, a small carp lake, a designated trout stream and a beautiful meadow garden or, weather permitting, you may wish to simply curl up in front of a real log fire with a book. More information on "Non participants" page.

For golfers there is a spectacular course nearby at the elegant Chateau des Vigiers. Designed by Donald Steel, this 27-hole course meanders through vineyards and orchards, with stunning views, before returning to a cosy clubhouse with its excellent restaurant.
Non-participants may wish to hire a car for the duration of the holiday to maximise exploration time and range during lesson time. More information on the "Dordogne" page.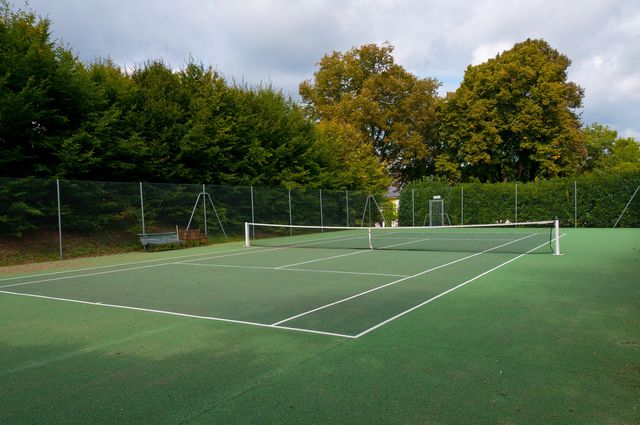 In short, your holiday at le Bourdil Blanc is whatever you wish to make it, language speaker or not... as a minimum we guarantee a total French learning experience - fascinating exposés on local tourist sights, delicious food and wines, spectacular countryside, and the nourishing beauty of peace and quiet.
If you would like more information on the accommodation, the Dordogne area, or anything else on our website, please click on the 'contact us ' button above, and we'll get back to you as soon as we can.