Press articles
At the speak easy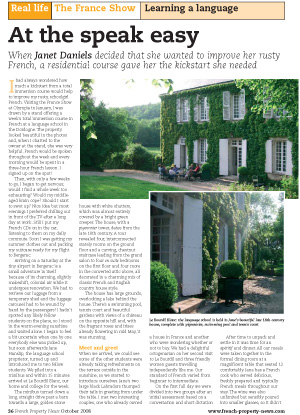 When Janet Daniels decided that she wanted to improve her rusty French, a residential course gave her the kickstart she needed.

I had always wondered how much a kickstart from a total immersion course would help to improve my rusty, schoolgirl French. Visiting the France Show at Olympia in January, I was drawn by a stand offering a week's total immersion course in French at a language school in the Dordogne. The property looked beautiful in the photos and, when I chatted to the owner at the stand, she was very helpful. French would be spoken throughout the week and every morning would be spent in a three-hour French lesson. I signed up on the spot!
Then, with only a few weeks to go, I began to get nervous; would I find a whole week too exhausting? Would my middleaged brain cope? Should I start to swot up? Nice idea but most evenings I preferred chilling out in front of the TV after a long day at work. Still I put my French CDs on in the car, listening to them on my daily commute. Soon I was getting my summer clothes out and packing my suitcase ready for my flight to Bergerac.
Arriving on a Saturday at [...]
To read original and entire article
On course for fluency
Taking a total immersion language course is a great way to improve your French, as well as being a fantastic holiday, as DEBORAH CURTIS finds out.
When learning French there comes a point when listening and repeating phrases, watching French TV or films and reading French books or magazines is no longer enough. A language is a living thing – fluid, ever-changing – and the only way to really discover how your studies are progressing is to practise it – a lot – preferably with real live experts... the French; ideally in France. For the Anglophone trying to get to grips with la langue française, there can be no better way to push your learning on a leap than by taking the plunge into a total immersion language course; to speak, hear, read and write nothing but French for the duration of your stay.
Not for the terminally shy perhaps but [...]
To read original and entire article
Busy in Bergerac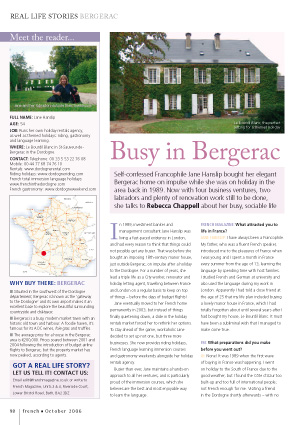 Self-confessed Francophile Jane Hanslip bought her elegant Bergerac home on impulse while she was on holiday in the area back in 1989. Now with four business ventures, two labradors and plenty of renovation work still to be done, she talks to Rebecca Chappell about her busy, sociable life.
In 1989, investment banker and management consultant Jane Hanslip was living a fast-paced existence in London, and had every reason to think that things could not possibly get any busier. That was before she bought an imposing 18th-century manor house, just outside Bergerac, on impulse after a holiday to the Dordogne. For a number of years, she lead a triple life as a City worker, renovator and holiday letting agent, travelling between France and London on a regular basis to keep on top of things - before the days of budget fl ights!
Jane eventually moved to her French home permanently in 2003, but instead of things fi nally quietening down, a slide in the holiday rentals market forced her to rethink her options. To stay ahead of the game, workaholic Jane decided to set up not one, but three more businesses. She now provides riding holidays, French language learning immersion courses and gastronomy weekends alongside her holiday rentals agency.
Busier than ever, Jane maintains a hands-on approach to all her ventures, and is particularly proud of the immersion courses, which she believes are the best and most enjoyable way to learn the language.
FRENCH MAGAZINE: What attracted you to life in France?
[...]
To read original and entire article
How to live longer – the experts' guide to ageing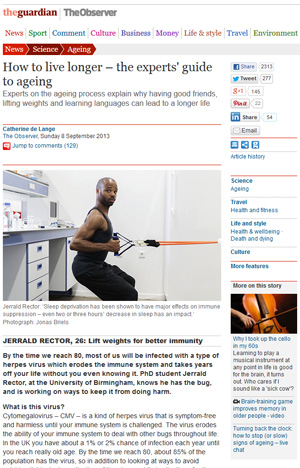 Experts on the ageing process explain why having good friends, lifting weights and learning languages can lead to a longer life.
JERRALD RECTOR, 26: Lift weights for better immunity
By the time we reach 80, most of us will be infected with a type of herpes virus which erodes the immune system and takes years off your life without you even knowing it. PhD student Jerrald Rector, at the University of Birmingham, knows he has the bug, and is working on ways to keep it from doing harm.
[...]

To read original and entire article